Please note: If you desire to purchase any of the following photo cds etc. Please send me a message via email at

gjourney1@yahoo.com

to specify which product you want. Thank you!
| | |
| --- | --- |
| | Click here to buy any one of the following products. |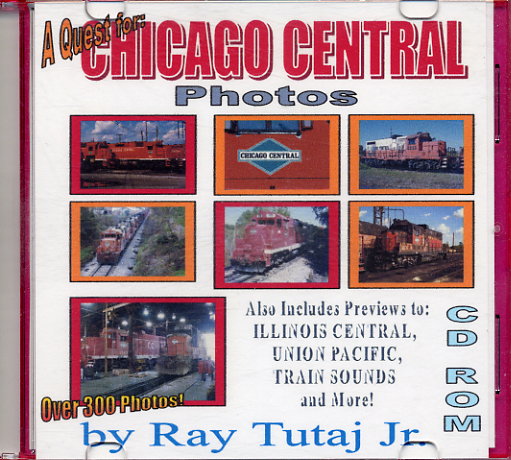 This CD-ROM features the Chicago Central Railroad from Council Bluffs Iowa to Chicago. I still consider this collection my best catch as a rail fan photographer. The CC is gone now and when I spent the few years photographing this railroad I had no idea it would disappear so quickly, but it did and it is gone completely. I am so glad I took the time and captured hundreds of images for us to relive. When I first read about the CC back in 1992, I was living in Las Vegas Nevada. I was originally from Illinois and lived next to the Illinois Centrals ;Mainline of Mid-America so I was familiar with the sights and sounds of the GPs of the IC. Being away from Illinois for a decade developed a hunger in me for the IC again, but the mainline was gone after 1985 and so were many photo opportunities too. Little did I know there was a railroad called Chicago Central, which basically was the old IC in disguise. So in 1992 I started taking vacations back to the Midwest to photograph the CC. I was on a quest to capture as much of the CC as possible. I continued for about four years and in 94 I covered the entire line. The photos enclosed on this CD are a result of my quest for this railroad. Perhaps I was really after the Illinois Central since most of the locos were ex IC. I am glad to share with you these photos which are only for your personal viewing please. I am hoping many other railfans who take railfan photography seriously, will put some of their collections on CD for many to enjoy. It is a great way to share our interest in train photography and a way to help fill the void for our favorite railroads we may not have captured years ago. I have compiled over 300 photos of Chicago Central in numerous locations. Numerous roster and action photos. All scans are high resolution for greater clarity. Scanned at 600dpi and then converted to 72dpi to allow more space on disc, but still retaining the quality of the original scan.BONUS I also have included previews of other CDs I have available. They are ILLINOIS CENTRAL, UNION PACIFIC and a CD which includes various railroads. Bonus tracks on this CD are train sounds from my: MIGHTY SOUNDS OF TRAINS CD and a song I had written about the IC bridge at LaSalle IL. Copyright 2002 gjourney1@yahoo.com This CD has been a good seller so I thought I might get onboard the ebay train and reach more customers. Those who enjoyed my Illinois Central CD will find this collection a great one too because it is earlier Illinois Central in disguise. Don't miss out on these incredible deals. At train shows you will at least pay double and sometimes three times as much for only 125 images of other peoples collections. Chicago Central is a Fallen Flag in America's Railroad history and here you will get an up close look at a classic operation!!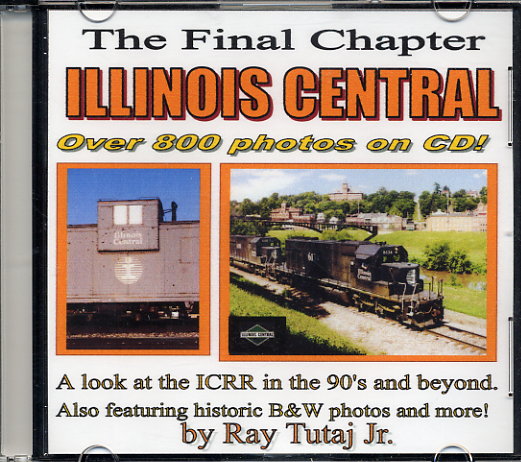 The Illinois Central Photo CD contains over 800 photos mostly of the 1990s era and up to 2002. This era of the IC was the closing chapter on one of the most historic railroads in the country. It still is amazing to see the black IC locomotives not yet painted in CN on the line. I photographed the IC in various locations in Illinois and Iowa. Also included is a rare collection of historic black and white photos I collected through the years which were photographed by friends or are in public domain. These images alone make the CD worth having. I also have folders of cabooses and rolling stock and some CNIC pics in a seperate folder. There is also a preview folder to my Chicago Central CD and Union Pacific CD. All images are high resolution quality scans. I have put over 700 photos on this disc because I did not want to have a part one and two. I have bought other peoples photo CDs and got home to view it and they sometimes have only a 150 photos, and are poor quality scans, and I paid 20.00 for the darn thing. I feel like I got ripped off. But, I have always loaded up my CDs so people have alot of trains to look at and I charge a fair price for all the work that goes into these photo CDs. I suggest viewing them as a slideshow with your favorite viewing program on your computer. Once again the scans are higher quality which takes a little more time to load than a poor scan. If you wonder how I can get several hundred high resolution images on one CD, the trick is to convert them to 72dpi after scanning them at 700dpi and you will not lose the quality. I have 800 pics which averages out to a penny a picture! Heck, I paid 2.00 for one 3x5 pic at a train show this past year and i bought three pictures! Don't miss out on this incredible deal. If you have questions about this please feel free to ask me.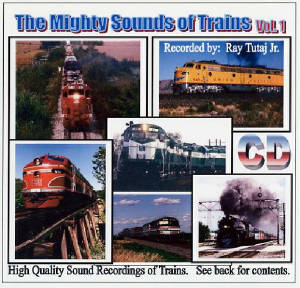 The Mighty Sounds of Trains CD contains thirty-five audio selections of train action in stereo! You will hear Union Pacific Challenger 3985 chugging up Cima hill in California, Milwaukee Road 261, Wabash F7 1189, UP E9 streamliners, Rock Island E8 652, Alco units of the Apache railroad in Arizona, Chicago Central Gp10 locos on the move and idling in the yard, UP and BN crossing at Rochelle, Illinois and hear Amtrak Illinois Zephyr and California Zephyr. I also have the Grand Canyon Railway and the Iowa Interstate too. These are just a handful of the many train sounds I have compiled on my travels through the years. A complete detailed list is the insert of the CD. You will surely get an earful of the characteristic train sounds, lots of clickety-clack, high-speed trains, steam engines and some idling engines including an F7, E9 and Gp10. All selections are recorded in stereo for your listening pleasure. The recordings were made with a Tascam four-track recorder with two quality microphones using the x-y technique. This CD has been one of my top sellers.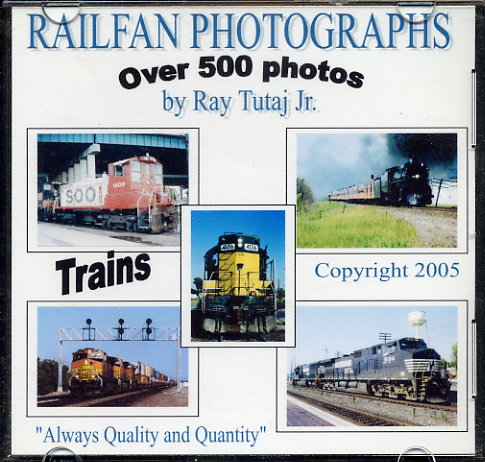 Tons of great photos of all different kinds of Railroads!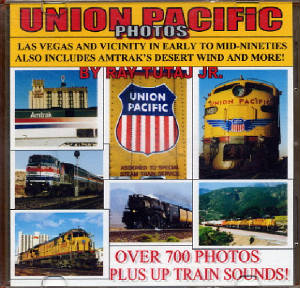 The Union Pacific CD is a collection of my photos/compositions taken in the 1990s. Quite a bit of Las Vegas area and vicinity, but also includes California and some in Illinois. Many different locations in Nevada including Apex, Moapa, Sloan, Eerie, Drylake, Henderson, Caliente, Rainbow Canyon, Meadow Valley Wash, Valley, Sloan, Arden, Milford Utah, and in California places like Kelso, Cima Hill, Cajon Pass, Daggett, Barstow and many many more. Includes UP 3985 plus the E9 streamliners. Also included are exclusive photos of Amtraks Desert Wind. You will see other road names too on the UP tracks, such as CNW, SP, RIO GRANDE, KCS, IC and others. All images composed by myself. Numerous Vegas pics with many hotel/casinos seen in the background. Some of those hotel/casinos are now gone. Places like the Dunes, Landmark, and Sands hotel. One photo in particular that has been a favorite is the UP E9 streamliners, eastbound at Apex with the Las Vegas Valley seen in the background and on a clear day! It took me three years to finally get this shot. I lived in Las Vegas for many years and began photographing trains in the desert in the start of the nineties. Many scenes of beautiful desert landscapes with trains passing by. Also many roster photos of locomotives no longer on the roster. I also was employed by a railroad crew hauling company called Renzenberger. On many trips I took my camera along and went to locations via my job. Let me also mention on this CD is a small industrial railroad called the Nevada Industrial Switch (NIS), a very difficult train to catch operating, because of location and the few times they ran. I have pics of this operation, including a very rare photo of this train with Lake Mead in the background!! They interchanged with the UP near Apex NV. The only loco on the roster was an ex-SP GP9 3838. I have it pictured in both paint schemes. One of SP and others of NIS in new paint. Anyway, once again I have loaded up the CD of many trains for your viewing pleasure with lots of little surprises, like some train sounds! All photos are scanned at a high resolution for greater quality,and then converted to a lower number but still retaining the higher quality. This way I can get more information on a disc and you get more for your money. Please feel free to contact me if you have any questions regarding this item. I have just started selling my photo CDs on ebay with very good results. (See feedback)Please check back again if any of the titles you desire have been sold already, for I will post more asap. Don't miss out on these incredible deals, because you will pay two to three times as much for other collections and get far less with lesser quality. But I gaurantee you will be satisfied once you view the CD. Happy Railroading from Ray's Railroad Store from the Heartland!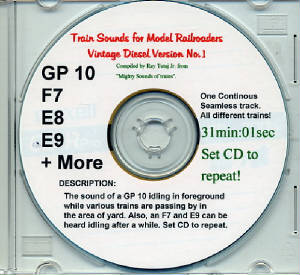 Train sounds for Model Railroaders will make your hobby a much more enjoyable experience. Here is what it is all about: Imagine a busy railroad yard with vintage era diesel trains passing by. Imagine yourself as an employee or just a railfan in that railyard where nearby is a GP 10 idling while various trains pass by and some are working the yard! As one train comes and goes, another can be heard in the distance approaching and a vintage diesel is heard idling in the foreground. Later in the recording is an F7 idling and then an E9 actually starting up!(I got lucky). You will hear a variety of different train action sounds. From a multiple unit latch-up of GP10's to F7's rattling by, and alot of clikety-clack sounds. This recording is seamless and is one continous track! Thirty-one minutes in length, all you have to do is press repeat on your CD player and enjoy hours of train sounds from vintage 1st generation diesels. This is my new CD, and I am very excited about it!!

These sounds are all in stereo so you can experience the panning from right to left or visa versa, and recorded with high quality equipment. The same quality as my Mighty SOunds of Trains CD. This CD has been created by using overdubs to make it one continous track. In this way it simulates a day by the railyard and a busy one at that. All sounds have been originally recorded by myself. This CD is not only for modelers but for any person enjoying the variety of sounds that trains can make. The uniqueness of this CD is that it is one continous recording. You get a busy day by the tracks and the relaxing sound of a GP 10 and F7 idling nearby. It is just cool!!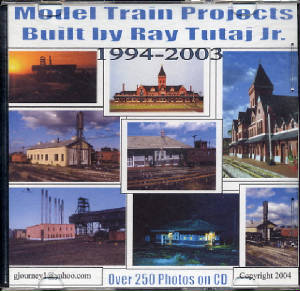 Photos of Ray's Model work from the Mendota IL. Layout, the Cherry Mine Disaster, and the LaSalle engine house!